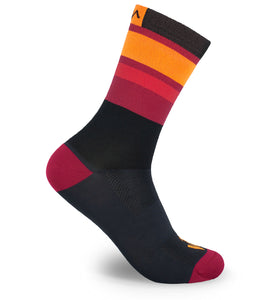 There are many things to be when you're Bandit. You can be a rap song, a bar in Chicago, a robber or a thief, an electronica band, a cyclist or a runner. You can be banded threads wrapped around and around with splashes of color that remind us of sun down. You can be the Lone Ranger graveling down a lonesome, beautiful stretch, catching the last light of day before the sun sets. This is Bandit.
 SPECS
8 inches tall

Italian threads, and made in Italy, of course.
CARING FOR YOUR SOCKS
Hand or machine-wash on delicate using a mild detergent at 30° C or 86° F.

Air or line-dry; lay flat if possible.

DO NOT BLEACH, IRON, OR TUMBLE DRY.