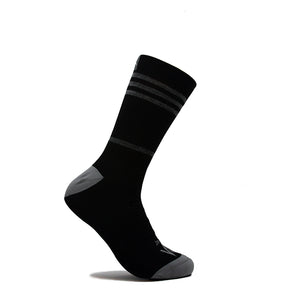 Because that's how the nursey rhyme goes and we owed it to our Bah Bah Blue Sheep to get it right. Our Black Sheep of the MINT family is 7" tall, can be worn year-round in many parts and includes a little bit of terry toe padding for reinforcement at that outer most point of your foot. 
SPECS
7 inches tall

Italian Merino Wool, and made in Italy, of course.

55% wool; 25% polyamide; 20 elastane.
CARING FOR YOUR SOCKS
Hand or machine-wash on delicate using a mild detergent at 30° C or 86° F.

Air or line-dry; lay flat if possible.

DO NOT BLEACH, IRON, OR TUMBLE DRY.

Your merino MINTs may appear larger than your standard MINTs when you first receive them. 

WHY? Most merino socks sold in the US are pre-washed and use fabric softener that washes out the natural oils and lanolin in the wool; it is  processed.

MINT socks are made of high-grade Argentine non-mulesed merino spun in Italy. It is unwashed and untreated and will shrink 10-15% on first washings when care is followed.