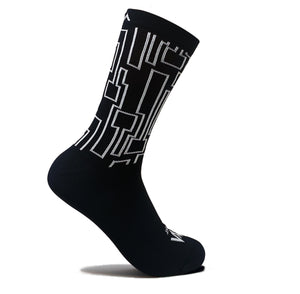 This our segue from DaVino banded white to Black Top D. We didn't want to remove the DaVino design from our offerings but decided to go stealth by replacing the top white band of DaVino with black. That's why we call it Black Top D. And another thing, Facebook won't let us sell the original DaVino on their shop because they say Davino is alcohol. Stuff this thing in your mouth all you want, FB, but it'll never have the same mouthfeel as a glass of da vino.
 SPECS
7 inches tall

Italian threads, and made in Italy, of course.
CARING FOR YOUR SOCKS
Hand or machine-wash on delicate using a mild detergent at 30° C or 86° F.

Air or line-dry; lay flat if possible.

DO NOT BLEACH, IRON, OR TUMBLE DRY.