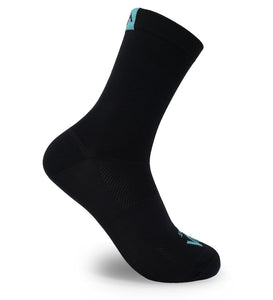 Henry Ford once said of his Model T, "Any customer can have a car painted any colour that he wants, so long as it is black." That's the way we feel about our Model B black sock. It comes in all black with a little touch of blue on the backside and on the top of the toes. Black and blue. Surely we couldn't call it The Bruise, could we? 

 SPECS

7 inches tall

Italian threads, and made in Italy, of course.
CARING FOR YOUR SOCKS
Hand or machine-wash on delicate using a mild detergent at 30° C or 86° F.

Air or line-dry; lay flat if possible.

DO NOT BLEACH, IRON, OR TUMBLE DRY.