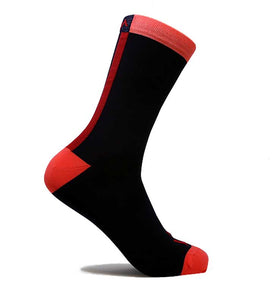 THE NAVY SPEEDSTER TAKES A PULL WHERE THE RED RACER PULLS OFF.
This one screams versatility, will rip on all terrain but may do exceptionally well on the track* and in mud.  Our collections are rooted in the mid-century era, drawing inspiration from design, music, art and concepts. The incorporation of racing stripes has been around since the early 1950's, with the sole purpose of helping officiators to identify cars on the track*during races.
 SPECS
7 inches tall

Italian threads, and made in Italy, of course.
CARING FOR YOUR SOCKS
Hand or machine-wash on delicate using a mild detergent at 30° C or 86° F.

Air or line-dry; lay flat if possible.

DO NOT BLEACH, IRON, OR TUMBLE DRY.