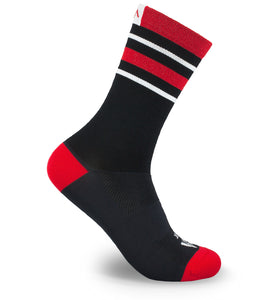 THE CHET, LIKE THE BIRD, IS OUR VERSION OF MODERN DAY TUBE SOCK THAT'S NOT A TUBE SOCK. 
It doesn't fit like a tube sock, obvi, but given the Chi-tri-colore of black, red and white, The Chet could easily have been the wrap-around and wrap-underfoot of the boys of the Chicago Bulls. The name MJ, shameless and potentially mistaken for the other Michael — of Jackson fame, we opted for Chet, as in Walker. Chet 'the Jet' Walker was one of the greatest players the game of roundball ever saw. More so, we dig his name and hope he'll dig the honor as much.
 SPECS
8 inches tall

Italian threads, and made in Italy, of course.
CARING FOR YOUR SOCKS
Hand or machine-wash on delicate using a mild detergent at 30° C or 86° F.

Air or line-dry; lay flat if possible.

DO NOT BLEACH, IRON, OR TUMBLE DRY.