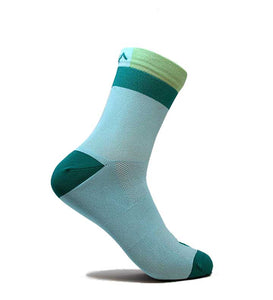 The skinny: Mason is a traditionally masculine name and its origin as 'one who works with stone'. None of that applies here. We produced the two Masons because you asked for a shorter sock, and we named it after our friend Heather who is not a bricklayer. But would dudes buy a sock named after a girl? We didn't think so. Google Heather Mason and ask her to go for a ride. Any ride. Any bike. Any length. That's why The Mason.
SPECS
5 inches tall

Italian threads, and made in Italy, of course.
CARING FOR YOUR SOCKS
Hand or machine-wash on delicate using a mild detergent at 30° C or 86° F.

Air or line-dry; lay flat if possible.

DO NOT BLEACH, IRON, OR TUMBLE DRY.